Hiring: Programme Coordinator
Job Description: Programme Coordinator
The Kutumb Foundation
_________________________________________________________________
Job Description:
The Programme Coordinator is responsible for the development, management, and execution of the 'Indradhanush', 'Qissagadh', 'Dhamaa Chaukdi' and the School Intervention Programme programmes, which includes Language Programmes, History Walks, Workshops, Events etc. She/he ensures that program deadlines are met and all norms are complied with in accordance with the Organization's goals.
Duties and Responsibilities include:
Development of the Programme
Contribute to the overall development of the programmes ensuring development and implementation of school intervention modules and integration of Indradhanush and Qissagadh language programmes.
Take charge of overall programme management ensuring responsibility for deliverables, their timelines and quality, and monitor the work of the staff on a weekly basis
Compile data (quantitative and qualitative) from all various programmatic interventions and generate reports as required
Contribute to capacity building of staff through Training of Trainers, team building workshops and mentoring the interns/ volunteers, including quarterly Dhamaa Chaukdi conclaves.
Visit Ghevra Learning Centre as and when required (minimum once a month) for monitoring and evaluation of Basic Computers Course by Habitat Learning Centre and Indradhanush/Qissagadh Ghevra .
Visit Nizamuddin Sunder Nursery Basti Centre on a regular basis for monitoring and evaluation of Indradhanush (at least twice a week each)
Support the team of teachers in admissions, teacher trainings, curriculum development, parent meetings, student rubrics etc towards the successful completion of every batch through regular monitoring and evaluation.
Conduct Weekly Friday Meetings with staff at Kotla Qissagadh Active Library for review of their work as a mentor.
Closely Review the work as the mentor of Library Managers for Qissagadh (Kutumb's Active Library and Resource Centre)
 At the end of every month prepare a Growth Report of Staff for review of the President of the organization.
Qualification and Skills
A Master's Degree in Social Work/Social Sciences/Humanities/ with a minimum 1-2 years' experience in working with youth
development processes and community development initiatives
Proficiency in English and Hindi
Computer proficiency in MS-Office
This position supervises
-Library Managers
-Teachers
-Student Interns
Communication Line: The person in this position reports to the President and Senior Programme Staff
Remuneration: Commensurate with experience and skill
Last Date of Application for this position: 15th May 2017
Interested Candidates should first go through our website: Kutumb.in and our Facebook: The Kutumb Foundation for more information on our programmes,
then send us their CV and a Cover letter describing why they think they are suitable for this position (minimum 150-200 words). Send the application to info@kutumb.in and mention subject: 'Programme Coordinator- Job Application'.
Dhamaa Chaukdi
Goal of Life
Kutumb is participating in the Delhi Dynamos Youth League with teams in the Under-7, Under-9, Under-11 and Under-13 categories. Matches happen every Sunday at Pushpanjali Farms.
Morning Class at Qissagadh
Kutumb is holding a New Learners Class at our Qissgadh Active Library in Kotla Mubarakpur. The class focuses on language development through learning alphabets and storytelling and happens five days a week in the morning.
Comic Workshop
Documentary graphic artists Ita Mehrotra and Payal Padmanabhan led a 5 day workshop on comic arts with 14 young adults (15-20 years) from the Savda Ghevra Resettlement Colony. Organized by Artreach India and The Kutumb Foundation, the participants, many of whom are first generation learners and had never before seen a comic, created extraordinary individual stories.
Painting Workshop
Artreach India worked with the children of Qissagadh Active Library Ghevra to conduct a two day painting workshop.
Nizamuddin Workshop
Indradhanush Foundation students work on their motor skills at our Nizamuddin Centre.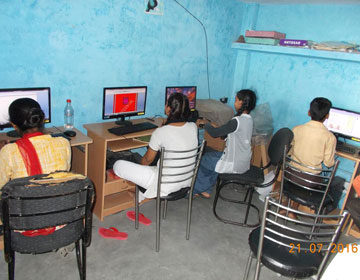 Ghevra Computer Classes
Our Basic Computer class continues in Ghevra, with three batches. Our peer teacher, Inderjeet, was recently selected by the Habitat Learning Centre for their Best Faculty Award.